About MIA
The Miyakonojo International Association
About the Miyakonojo International Association (MIA)
The Miyakonojo International Association was founded with the intent of contributing to international friendship and world peace through the promotion of a wide variety of economic, cultural, and other international exchange programs to deepen mutual understanding and friendship with cities in foreign countries and with Miyakonojo's Friendly Exchange Cities.
Operations
Education, consultation, and promotional activities related to internationalization, international exchange, and multiculturalism
Promotion of international cooperation
Support of private international exchange and cooperative activities
Activities of the Association
International Exchange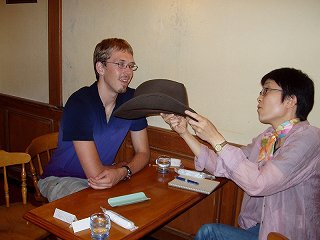 Talk & Talk
Every few months, up to 4 times a year, MIA holds an English conversation session known as Talk & Talk. This session is tailored towards local Japanese residents, and aims to provide an opportunity to test and strengthen one's English skills, all while enjoying an evening out at one of the many cafes and restaurants around the region.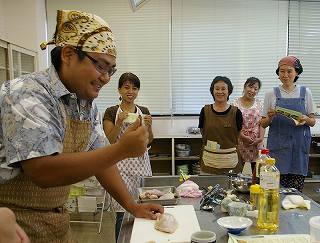 Cooking Classes
With a growing international community, Miyakonojo is home to a range of cultures, as well as a range of cuisines. Through these cooking classes, we aim to introduce the local cuisine of a region, and provide an opportunity for locals to interact with the international community around Miyakonojo.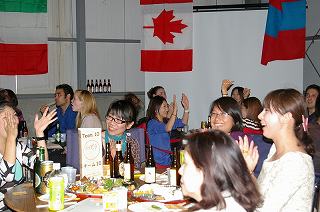 World Beer & Trivia Night
One of the major events of the year, the World Beer & Trivia Night is host to both a mind-bending quiz, and a suite of international beers to take the edge off after answering those questions!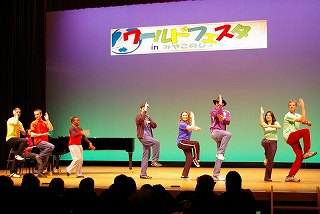 World Festa
THE premiere event of the year! MIA gathers together international residents and puts together a showcase of their culture, as well as providing talented individuals with a stage to demonstrate their talents.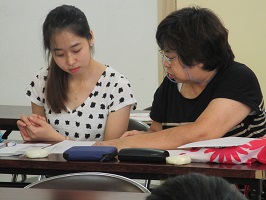 International Cooperation
The Miyakonojo International Association operates a number of programs to support its local International residents, including Language Courses and other entrusted programs. The foremost of these programs is the weekly Japanese Practice Sessions, held at the local community center. Thanks to the gracious support of many local volunteers, International residents have the opportunity to study Japanese free of charge in a one-on-one setting.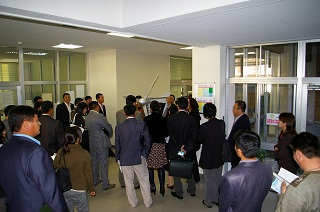 Multiculturalism
MIA, in addition to providing support for its foreign residents through various outreach programs, looks to provide opportunities for foreign residents to get involved in local events. As a primary example of this, each year, MIA takes part in the Bonchi Matsuri festival parade, dancing our way down the main street to open the festival.
Additionally, MIA organises yukata for participants to wear, giving them an opportunity to try on some more traditional clothing while they get involved!
MIA also donates used and/or unusable postage stamps, as well as miswritten or damaged postcards. By means of the Miyakonojo UNESCO Association, these stamps are delivered to the Miyazaki Prefecture Volunteer Association NPO and the United Nations Educational, Scientific and Cultural Organization (UNESCO)
Volunteer Recruitment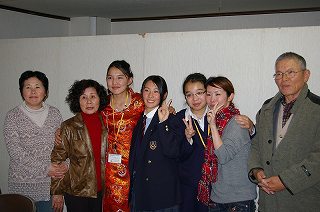 Host Families
With Sister Cities in both Mongolia & China, there are often visitors looking to partake in a homestay experience.
MIA Host Family volunteers help out by providing a first-hand live-in experience, whilst showcasing the best points of our hometown during their visitor's stay.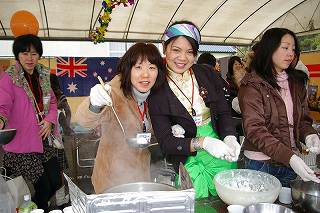 Volunteer Staff
All of the events that have been described above could not happen without the gracious support of the many volunteers who assist MIA in their preparation, setup and execution.
MIA is always looking to recruit more volunteers for their events, and it's a great way to come and see our events first-hand, free of charge!
Association History
Date
Feb. 25, 1993
Founding of the Miyakonojo Area International Association (MAIA)
The association was founded with the purpose of contributing to international friendship and town development in our international society through promotion of international exchange and internationalization of residents of the Miyakonojo area.
Nov. 1999
The City of Miyakonojo established ties with the cities of Ulaanbaatar, Mongolia and Jiangjin District, Chongqing, China.
Mar. 21, 2000
Founding of the Miyakonojo International Friendship-City Association (MIFA)
The association was founded with the purpose of contributing to world peace and deepening mutual understanding and friendship with other countries in Asia while strengthening the bond between Miyakonojo and its Friendly Exchange Cities and other cities with a connection to Miyakonojo.
Jan. 1, 2006
The city of Miyakonojo merged with the four surrounding towns of Yamanokuchi, Takajo, Yamada, and Takazaki to form the new city of Miyakonojo.
Apr. 1, 2006
The Miyakonojo Area International Association (MAIA) merged with the Miyakonojo International Friendship-City Association (MIFA) to become the Miyakonojo International Association (MIA).
Nov. 24, 2019
Miyakonojo celebrated its 20th anniversary of sister city relations with China's Jiangjin District of Chongqing and Mongolia's capital city of Ulaanbaatar.
MIA Facebook